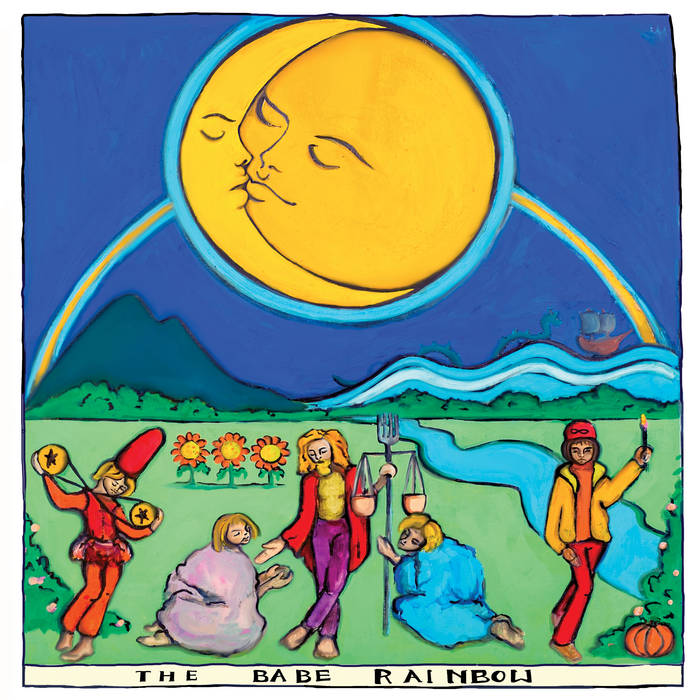 Despite the obvious jangle-pop reference points, psychedelic pop and myself have never really had a totally comfortable union. I find that I simply do not have the imagination for an aesthetic whereby the majority of tracks start off with jangled riffs and worthy intent, before they seemingly become engaged by some mad haired wizard type production fella who takes the track off through numerous tangents that never quite escape the control of his mad narcotic clutches (or reading that back...perhaps I do have the imagination after all) !
As such the limited psychedelic music that frequents my collection always has that certain something else that counteracts the sense of bizarre. The Babe Rainbow have that 'something else' in abundance and have produced another body of work that matches the brilliance of their debut self-titled EP (see my previous review here) and their debut 2017 full length which is also self-titled (perhaps they do not have my imagination)?
Initially what sets this album and the band apart from other psych-pop/folk bands, is the ease in which it is listened to. Unlike their fellow countrymen and label mates King Gizzard and The Lizard Wizard, whose psyche is always punctuated with the sharpest of the weird edges that psyche usually demands, tracks such as the opening salvo of The Magician and Supermoon drift by in the sort of hazy atmosphere that should accompany life's more relaxed moments, where solitude is desired and finally achieved. It is completely startle free and ultimately some of the most chilled music available.
Darby and Joan
In fact, despite always being omnipotent, it is only in the third track, Gladly, that a riff that stirs my jangle receptors is finally realised and even then the typical jangled guitar work of the genre drifts in an out of the haze almost apologetically, rather than become the forefront of the sound. It is a truly brilliant track and typifies some of the better parts of the album which sees tracks such as Darby and Joan (see above), Alan Chadwick's Garden (see below), 2nd of April expertly juxtapose a superbly laconic balance of jangle and sweaty haze.
Eureka / Alan Chadwick's Garden
However the album is not totally dedicated to getting from A to B in the most gloriously hazy and lazy way possible. At times the wonderful sense of incidental that is evoked is startled into life by tracks such as Cool Cat Vibe, New Attitude, Eureka (see above) as they casually saunter towards a sort of psyche / jazz mix that makes you want to pull on a smoking jacket, wander into some sort of dodgy 1970's jazz establishment, smoke weed and say words like 'dude' and 'cool' with the abandon of an embarrassingly chilled late 40's dad . These track retain the essence of last years more groove laden self titled album and add a superb ying to the more jangled yang of the remainder of this album.
The fact I can even drag such images from my imagination is testament to where the sound of this album can take you. It is just beautiful escapism music for those moments when you have finally found the time to avoid the stresses of life.
Wonderful stuff.
Artist Links